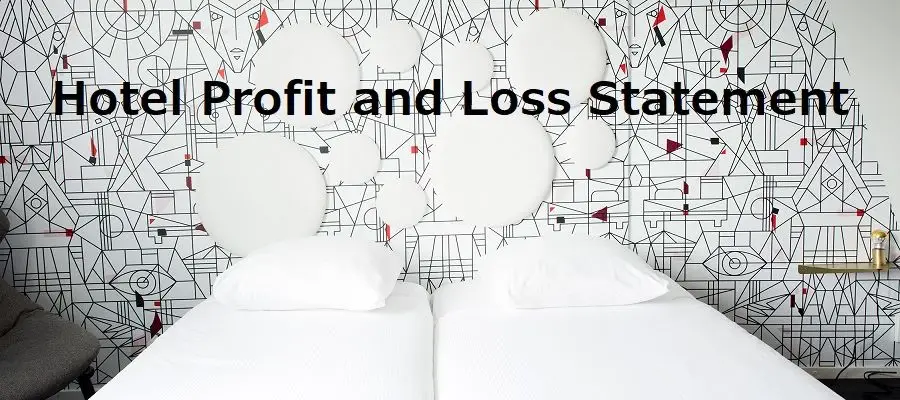 As CEO of a hotel management company that has generated over €190 million in the last year, I can tell you how important it is to control every detail of your business's finances, both on the revenue and cost side.
Hotel Management isn't merely about strategy. There are many layers, each of which requires your undivided attention. Hotel Asset Management, Human resources, operations, budgeting, and income and cost control are but a few areas which necessitate focus, as well as the requisite knowledge and skill. But how can you efficiently assess the business areas that generate maximized profits?
To accomplish this step and provide the best platform from which your hotel will succeed, the key is to prepare and execute a carefully structured profit and loss statement. In this article as we review a Hotel P&L sample based on the Uniform System of Accounts for the Lodging Industry (USALI), a rich resource that provides numerous key insights for hotel managers.
A hotel profit and loss (PnL) statement provides you with an analysis of your hotel's revenue, cost and profit performance. It helps you understand how much bottom-line margin the property is making. Therefore, it is essential for any hotel manager to fully understand each line item of their P&L statement, and where pertinent, how to interpret the data to inform business decisions.
Note: You may also see P&L statement referred to as your hotel income statement, profit and loss report, statement of financial results, income and expenses statement, or statement of profit and loss.
They are typically carried out on a monthly, quarterly and annual basis. Although the frequency is entirely at your discretion and what you think is best for your hotel, I would recommend to review such a report at least with a monthly frequency to avoid the business moving off beyond control. Larger hotels even provide such reporting on a weekly or even daily basis to really micromanage their financial success
The importance of profit and loss statements for independent hotels
1. Highlighting capital flows
Periodic P&L reports are essential for the success of your hotel, as they highlight where your profits are coming from and where your expenses are going. For this reason it is a key tool you want to make data-driven decisions on expenses and revenue at an operational level.
2. Understanding precisely how each department is performing
Your P&L statement provides a close scrutiny of departmental performance across your hotel. It also allows you as the hotel manager to analyse this performance compared with your overall and departmental budgets per week, month, quarter or year.
The key benefit is that it provides you with insights to identify financial performance weaknesses and strengths. You can then act accordingly to make improvements, such as through cutting hotel costs, enhancing underperforming areas, or investing in new revenue growth streams.
The P&L is of course strongly linked to your other two essential financial statements:
1. Balance Sheet and Liabilities (A&L) Statement
2. Cash Flow Statement
The P&L feeds both these statements. Therefore, its correct and accurate structure, execution and understanding is critical to help small and independent hotels keep a tighter rein on cost control.
The simple 5-step plan for an effective hotel profit and loss statement template
Implementing the following 5 steps will provide a strong foundation from which to develop an effective P&L report:
1. Sound management of all revenue operations, producing accurate and timely numerical information for your hotel accounts department (sales figures, expenses and so forth)
2. Periodic accounts department preparation of accurate and insightful P&L reports to deliver to management
3. Management analysis of the P&L with the purpose of identifying where the hotel is meeting or exceeding established goals / hotel budget plans and where improvements can be made. Management must determine the correct course of action to take in order to maximize outcomes, based on the information provided by correct and accurate P&L statements
4. Hotel management oversees and implements the previously decided course of action regarding improvements and the resolution of problem areas
5. Periodic reviews of the entire P&L workflow process, from drawing up your P&L reports to interpretation and implementation of decisions based on their insights. Rigid commitment to a review process helps you to identify where further improvements can be made and what is and isn't contributing to the provision of value-added data and information
KPIs and elements of a hotel P&L statement:
For the specific case of hotels, the most important KPIs to look at in our Profit & Loss statement are the GOP (gross operating profit) and NOI or NOP (net operating income or profit)
Working out your GOP (gross operating profit)
1. Add the revenue and costs from all operational departments (restaurant, bar, banquets, front office, housekeeping, engineering and others).
2. Deduct all the undistributed, fixed and overhead costs to work out your NOI (net operating income) and EBITDA (Earnings Before Interest Taxes Depreciation). This is basically the profit generated from the hotel's own operations.
A hotel P&L statement includes the following elements:
1 . Revenue or Top Line
This is typically itemised into individual revenue sources. These include room turnover, food and beverage revenue (restaurant, breakfast, bar, room service), and if applicable, events, activities, spa membership and gift shop income, among other possible revenue sources.
Once you have the figure of the total sales revenue, the cost of sale (commissions that are paid to different sales channels, for example to the OTAs ) should be diminished to obtain your gross profit.
2. Costs
a) Operational expenses
These are the operational costs for delivering the services of each revenue source, for instance: restaurant, bar, banquets, front office, housekeeping, cleaning, engineering and others.
b) Undistributed expenses
Overheads such as administration, staff, and property-related costs.
c) Fixed expenses
These costs remain constant. They include property tax, property-related costs such as building and/or equipment rental, amortization, depreciation, insurance and the interest to pay on loans or debt, such as from loans, lease and insurance.
d) Interest, taxes, amortization and depreciation
3. Earnings or Bottom line
Difference of deducting the cost from the revenue. It is also known as net income, profit or earnings.
Here's a sample hostel profit and loss statement:
1. Revenue or Topline
To calculate the total revenue generated:
Room Revenue
Food & Beverage

Breakfast Revenue
Bar Revenue
Restaurant Revenue
Room Service Revenue

Other Departmental revenue:

Events
Activities
Spa
Telephone
Gift Shop
Parking
2. Costs
a) Operational expenses:
Rooms
Payroll
Cleaning
Laundry
Other
F&B
Food Cost
Beverage Cost
Payroll
Cleaning
Laundry
Other
Other departments: spa, events and others
Purchasing Costs
Payroll
Other
b) Undistributed costs:
Administration, excluding what has been taken into account already for being related to services of the hotel.
Marketing and distribution expenses, you can take into account: cost of commission to OTA, cost of metasearch, other sales channels cost, and fees if you decide to hire experts from a

hotel marketing agency

Staff not directly related to rooms, including F&B, spa and events staff
Cleaning
Other
c) Fixed expenses:
Property tax
Property rental
Equipment rental
Insurance
By applying the following formula we obtain our NOI (net operating income) or EBITDA (Earnings Before Interest Taxes Depreciation Amortization):
Revenue – Expenses before Interest, Taxes, Depreciation and Amortization
To conclude with the P&L statement, the final step is to calculate the following:
Interest
Taxes
Depreciation
Amortization
The above sample is of course a simplified version of a hotel P&L statement. Your accounting department may wish to break your own P&L statements down into more detail to aid greater understanding and provide deeper insight.
A final word
To understand your P&L as well as possible, what it boils down to, simply, is this: total sales minus total costs equals hotel profits. While it doesn't need to become complicated, the more detailed your P&L, the better for your understanding and insight regarding overall hotel operability and performance.
Any hotel management business that wishes to achieve healthy financial results, should invest a good amount of time to build a well structured profit and loss statement, and review it monthly with the members of the hotel executive and management team. It is a key step to your success!
Download your free copy of a sample hotel P&L statement in Excel
Download our Excel – Download our Pdf
As ever, please let me know your thoughts!
Cheers,
Patrick Landman
Need help with writing your Profit & Loss Statement and improving your hotel´s performance? See which Hotel Management & Consulting Services we provide to turn your hotel´s results around!