Innovation has always held a central position in the hotel industry, fueled by the need to stay relevant and excite guests with new products and services to create unique guest experiences.
To get inspired, we from XOTELS have put a list together for you consisting of hotels that truly embrace the concept of innovation and apply creative ways to deliver top-notch experiences to their guests.
Enjoy our list of creative and innovative hotel concepts and get inspired!
Most Innovative Hotel and Accommodation Concepts
BUNK Hotels bridges the gap between hotels and hostels. With smart positioning, they're able to get their hands on a slice of the demand pie from different audiences. Both their locations (Amsterdam & Utrecht) are located in former churches. What's on offer is a combination of shared wooden pods and compact private rooms. Creative thinking shows what can be achieved by remodelling the original spaces into a beautiful concept, all whilst preserving the historical elements of the building. 
What makes them stand out?
Their pay-off: bridging the GAP between Hotels & Hostels with their unique approach to accommodation concepts (

hybrid concepts

).

Reimagining what can be done with spaces, materials, and prominent use of art. They have converted two monumental churches into the perfect place for travellers to gather. As seen in the image above, a beautiful large central hub is built of which the panelling consists of repurposed wood from the original church benches. 

The wall is a smart way to divide the large space, and is not only decorative but also acts as the bar, kitchen and partly where some rooms are located.

Also, the beautiful church windows and the Quellhorst organ built in 1813 (which is still functional!) have remained central in the building. 

Prominent use of art: throughout the building you can find beautiful and quirky art pieces that not only catch the eye but bring the whole experience to a higher level.
Our tips?
Reinvent hotel spaces with creative use of materials to elevate the aesthetic and optimize the overall space utilization.

Try bridging gaps between concepts, just like BUNK has done, to appeal to a large audience and create a compelling and innovative hotel concept at the same time.

By focusing on art in their design, they offer the perfect match for various artful and cultural events where they can drive additional revenue with.
A true gem in the city of Paris: Paris j´Adore Hotel & Spa. The perfect fit for the affluent traveller looking for a high-end romantic getaway to the city of romance. 
Why? Everything, and we mean everything is specially curated and designed to fit the needs of this segment, which is where they lead the way.
From the services and amenities to the overall design, everything is taken into account to make sure every guest experience is an unforgettable one.
What makes them stand out?
The whole concept including services, decor, and products on offer are catered to fit the high-end romantic travel audience (ultra-segmentation). This translates into a unique and quirky design embracing Parisian design that stands out from the crowd in an innovative way.

Take for example the following details they've implemented in their design:

Swing hanging in the room.

An in-room luxuriously sized jacuzzi.

Use of warm, soft and flowy materials and decorative pieces throughout the property reminiscent of the Parisian design language.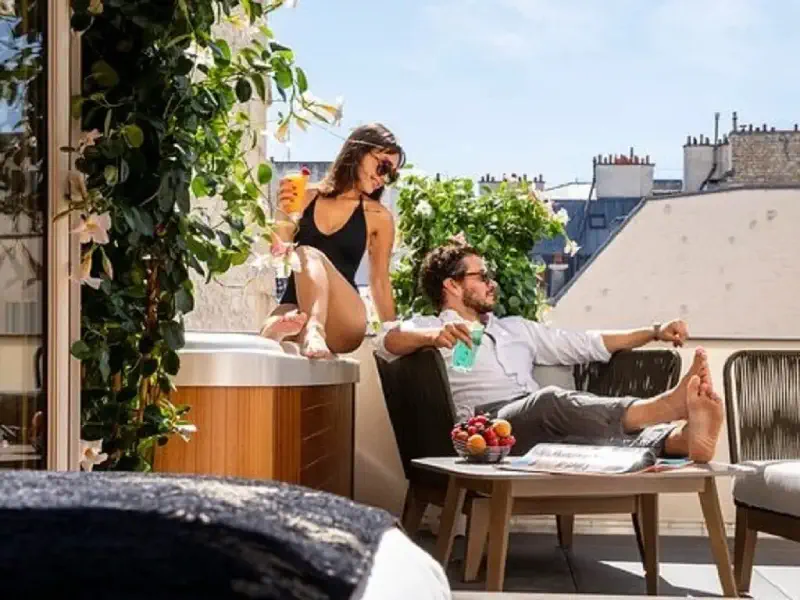 Our tips?
Find out which segments hold value (and fit your concept), and target them with niche offerings (e.g. romantic packages targeting couples or family packages catering to

multi-generational travel

).

Especially for the higher segments, not meeting the needs and wants of those looking for a perfect high-end getaway is a missed opportunity to generate revenue.

Embrace local culture and design into your hotel in a way that feels true to your concept, providing guests with that "local" ambiance.
Innovation through architecture can greatly benefit the look and feel of a hotel, and Hotel Mariënhage Eindhoven is definitely no exception. 
Situated in what used to be a monastery, the landmark building has been repurposed to be a trendy boutique hotel in the heart of Eindhoven, The Netherlands. The location is the perfect boutique MICE location offering everything under one roof, from a boutique hotel to an event and meeting location situated in the repurposed adjacent monumental church. Here, versatility prevails, with a wide variety of events that can be hosted including concerts, weddings, private dinners, and business meetings to exhibitions.
What makes them stand out?
Eye-catching design that matches the historical significance of property.

Strong branding that makes the guest feel like they are in a unique property.
Our tips?
Stay true to your brand identity as deviating too much from the historical heritage and original name can create an incohesive guest experience. 

Never lose sight of your brand philosophy by adding bits and pieces to your concept without putting any thought into it.

Use the historical aspect of your asset to build an authentic brand story and experience.

Add some quirky elements referencing the past. For instance, Marienhage shows apples throughout the decor which is a reference to the 'forbidden fruit'. Also, the use of gold elements and dark wood is a homage to the building's heritage.

Brand your room types in the same way to complete the experience. Different designs and room categories can be given a creative name just like Marienhage did: Blue Virgin, Epic Eden, Heavenly White, Modern Monk, Monastery Mystery.

All of the above tips can be applied for both acquiring a new hotel or refurbishing your current asset into a new concept.
Recently awarded the hostel of the year award, The Green Elephant is a great example of innovative conceptualization in the hostel management space. Whether it is their creative twist to pods and private rooms, choice of products and services, or their overall approach to hospitality makes this concept a true front runner in the luxury ´Glostel / Poshtel´ space. 
They truly stand out by incorporating wellbeing and wellness into a hostel concept making ´luxury´ facilities, that are traditionally only found in higher hotel segments, available to the more budget-friendly traveller. This includes everything from an eco-spa with wellness treatments, sauna, hammam, foot baths, regular showers and bucket showers, a cooling ice wall, and infrared panels. Even the food served in the hostel is focused towards the guests' wellbeing with eco-friendly and healthy options all accomodating to different dietary limitations. In short, acting as an innovator in this price bracket by heavily focusing and delivering services and products catered to the needs and wants of this segment.
At the same time, budget-oriented travellers are getting overwhelmed by the generic offerings available in the market and are looking for more variation at this lower price point. On that note, The Green Elephant delivers exceptionally well on the promise of bringing variety to the market with exciting products and services. 
What makes them stand out?
Their creative and practical approach to generic hostel-style sleeping arrangements.

Choice of an innovative hybrid concept: affordable accommodation with luxury facilities (spa and wellness, broad selection of quality services, and high-level furnishings).

Wellness (which is traditionally only reserved for the luxury segment) added to a hostel breaks barriers and opens up new market dimensions. It allows for a deeper dive into serving an audience that cares about their wellbeing, aligning well with everything from healthy food trends, ecological materials and practices, and exercise / relaxing activities.
Our tips?
Find ways to elevate your hotel´s experience without compromising the price-quality (or requiring to heavily invest).

This doesn't necessarily mean opening a spa in your hotel. Instead, ask yourself: what are implementations with a high value-add that can be added at minimal cost?

Even the smallest implementations can make a big difference, especially when adding up multiple minor actions together to create the full package.
Zoku´s concept consists of a smart combination between living and working spaces, with plenty of room to get some work done either inside of your room or in the abundant social spaces available. 
Importantly, there is no need to worry about getting stuck in a boring co-working or meeting room without a view. This is because all social and working spaces are located on the top floor offering unobstructed views over the city of Amsterdam.
As for the rooms, they come with everything you need in a living / working environment.  The modular layout of the rooms provides a refreshing and clever approach to segmenting work and living spaces. They even have gymnastic rings hanging from the ceiling giving you the possibility to get some exercise in. What else do you need?
What makes them stand out?
Smart and functional design (both in-room and publica areas).

Inspiring co-working spaces focussed on productivity and space utilization.

Multi-purpose spaces with lots of natural light.

In-room: mezzanine-like lofted sleeping space which saves space by using a retractable staircase.
Our tips?
Space utilization

Always design your spaces fit for multiple purposes. In this way you´ll be able to convert rooms to fit different occasions and events, thereby maximizing the potential revenue of that space.

Lay-out efficiency: at night it is a bedroom, an office during the day, and a living space at night

(hybrid hospitality / hotel concept).

T

here are numerous ways to incorporate space saving elements such as the retractable staircase at Zoku. Other ideas include multifunctional elements that function both for storage as well as sitting area

Clearly, there is demand in the market for this type of product. This is reflected in the results achieved for two Zoku properties that we have opened in the midst of the Covid-19 crisis (May and June 2021) in Copenhagen and Vienna. The results speak for themselves: all 3 locations are outperforming the market in terms of Revpar / RGI.

Co-working is booming

Something to consider is the potential revenue that can be generated through opening up and making your public spaces a thriving work environment

The number of coworking spaces is expected to show a yearly growth rate of 21.3%, and almost 5 million people are expected to be working from coworking spaces by 2024, an increase of 158% compared to 2020 (Global Coworking Growth Study, CoworkingResources 2020).
Again, a concept that heavily focuses on hybrid concept style combining working and leisure spaces, especially in-room. A lot of detail and attention is put into making sure the hotel rooms feel spacious and consist of multiple spaces / areas rather than just feeling like one room or space altogether. This is achieved by stylishly segmenting the rooms and suites into individual spaces utilizing sliding doors or through the use of loft structures, making the rooms feel spacious and comfortable. This is especially important for those looking to get some work (workcation) done during their stay, as well as being ideal for guests who plan to stay in the room for the better part of their visit.
What makes them stand out?
Smart design that maximizes the perceived spaciousness of the room

Catering to those who prefer to feel more like they are in a suite or apartment rather than a regular room

Positioning as boutique apartments with higher quality products and design compared to traditional

Aparthotels

.
Our tip?
Introducing ways to divide rooms such as sliding doors, multi-functional furniture, or even small separators can benefit the overall perceived spaciousness of the room. Be careful though, since the opposite effect can easily be achieved as a result of over-cluttering the space

Stepping away from the minimalist / simple design language typically seen in aparthotels, making the product more exciting.
An innovative boutique hotel concept in the center of a European metropole that offers high-quality and trendy design, with uncompromising personal service up to par with 4-star properties, all at an affordable price? Meet Vaganto Hotel. It is definitely worth the visit when you're in Barcelona!
What makes them stand out?
A strong value-add is realized through personalization of products and service quality. Essentially, putting guests´ needs and wants front of mind and evaluating what is valued most by customers, and then acting on it by implementing the right initiatives.

Focus on affordable luxury by delivering a 4-star boutique design and quality, while working based on a 2-star asset.

Bringing generic B&B design to a new level, transforming the guest experience into what is typically only seen at luxury boutique concepts.

With their success formula, the hotel is able to compete at 4-star prices as travelers are trading up from basic B&B product to a better experience
Our tips?
Deliver on experiences (targeting

experiential travellers

). As an example, what would work best?

You check out, and everything including the room, amenities, including other interactions were just fine. But… you just felt something was missing from the whole experience.

Instead, what about: you're welcomed by the receptionist and you're still unsure about tonight's plans. From the get go, the receptionist engages with the guest and asks about their interests, travel motivation and if they have anything planned yet so far. On the spot, the team will have the chance to make personal recommendations and fill their schedule with amazing personal recommendations.

Note that everyone in the hotel can be this person. Train your staff to be ready and capable of helping your guests out.

Facilitating better experiences for your guests will leave your guests inspired, making them more likely to leave a positive review. Whether they are newcomers to your area, or visiting from closeby on a

staycation

, anyone will benefit from insider tips to explore your hotel´s surroundings!
KABANO Rentals is a vacation rental business that differentiates itself by delivering exceptional product and services, challenging the status quo of the generic vacation rental offerings.
What makes them stand out?
Experience based thinking, making sure that guests have a similar level of comfort and service as in hotels. Cover every guest interaction, from the moment they make the booking until they arrive home safely. 

Offering quality design and furnishings. Instead of standard furniture, unique signature pieces are used along with superior bed linen, iconic art and other decorative items.

Facilitating worry-free vacationing by making guests not only feel like they are at home but also making sure they are in a totally safe and clean environment. Particularly during Covid-19 their facilities and initiatives, such as contactless check-in through the use of a personal pin code, are highly appreciated by their guests.

All of this translates into a design B&B or boutique holiday home experience that basically outpositiones the local competition.
Our tips?
Create that seamless and unique experience that today's travellers crave. How? Make sure to think of the following points:

Technology: tech features such as contactless remote check-in, in-house information tablets, chatbots, and a great PMS/CRS/CMS can all greatly benefit the guest experience.

Planning: write extensive manuals and FAQs to help guests out as much as possible with any of their queries. Don´t forget any questions your guests may have prior to their arrival.

Personalization: today´s guests crave experiences, so be sure to have offerings on hand that spark interest and can take their stay to the next level. Include these offerings as well in the information you provide pre-arrival so they have the time to look at everything at their own pace.

Creativity: don´t be afraid to be creative with your design. Doing it right will make your concept innovative and stand out from the crowd!
Be Inspired, Be Innovative
Hopefully exploring our list of innovative hotel concepts left you inspired and helped to discover new hospitality trends.
Feeling to take your own hotel concept to the next level? Take a look at our hotel management & consulting services offering the right tools and support to increase your hotel´s performance.
Cheers,
Patrick Landman